Logistics
Logistics plays a vital role in SAS' day to day operations and long term vision. Our extensive relationships within the transportation industry help us assure the best service possible for our customers. We use our knowledge and experience with the railroads and trucking companies to create unique, creative and cost effective routes that ensure fast and timely deliveries.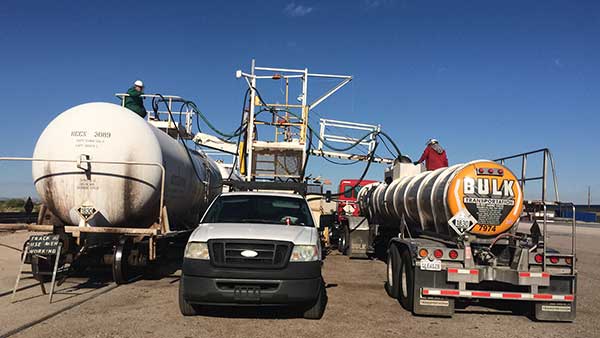 SAS owns and operates a fleet of 62 sulfuric acid railcars, which we use to facilitate the movement of sulfuric acid across North America and Canada. SAS consistently invests capital in our fleet to ensure safe and reliable transportation.
In 2011, SAS paid for the design and construction of a portable, self-contained sulfuric acid trans-loading unit, which we use to transfer product from railcars into tank trucks and vice versa in order to service customers.
The transfer unit is equipped with a double-sided catwalk that allows tank truck drivers to engage in top-to-top acid loading and a secondary water tank which is plumbed into the main water supply line in the event of water pump or generator failure - in addition to two eyewash stations. SAS has made significant improvement to our transfer unit in an effort to provide our customers with round the clock service and for the safety of both our transportation and trans-loading partners.